Meridian Grand is a perfectly designed hall for hosting all different cultures' large and luxurious events. Located in London between Tottenham and Walthamstow. It's a well known venue for Asian Weddings and couples frequently report that the experience they had on their big day was amazing. The venue stands out with its luxurious style that would compliment any bride's beautiful outfit.
It's like having two pillar-less ballrooms decorated like a fairy tale entrance foyer area; a mesmerising photo booth is available for shots. Two are available. Meridian Ballroom and Grand Ballroom. Meridian Ballroom is for up to 400 people without a dance floor, while banqueting style with a dance floor is for 380 people, and theatre-style is for 400 guests.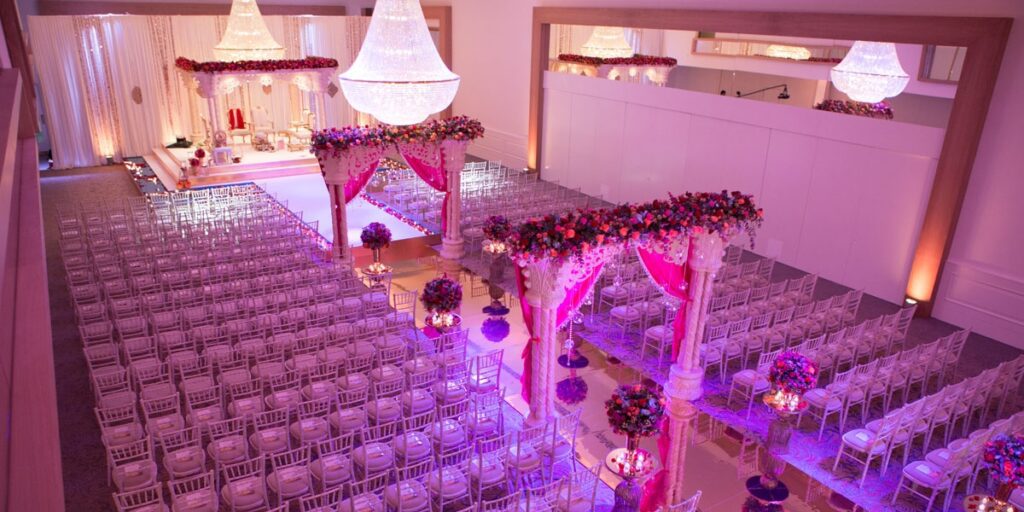 Hall Capacity
There is a Grand Ballroom for up to 700 guests, banqueting style with the dance floor is for 650 people. Banqueting style without the dance floor is for 700 guests. If you want it in theatre style it is for 700 guests, if you need more space the two rooms are combined into ample space. There are enchanting chandeliers, alluring mirrors, and mood lighting in each ballroom.
There is an eternity suite with a banqueting style with a dance floor for 80 guests. The capacity will increase to 100 guests without the dance floor.  In the theatre, the style is for 100 guests. Infinity suite is also available for small functions with a capacity of a maximum of 70 guests. On the other hand, 2 VIP suites are available with bathrooms for the bride with a hostess to make her comfortable.
The team at Meridian Grand can provide music and a DJ for the fun of the guests. Dance floors and disco sound systems are ceaseless fun in creating a wedding environment. It could be a Mehendi function or maybe a wedding day. 
A separate beautifully golden wall-decorated and well-equipped bridal suite is available with the hostess to help the bride with her preparations for her big day. She makes the bride comfortable. Infinity suites are there for the ladies and two VIP suites for the bride and bride sides.
Catering
The venue can provide Asian cuisines and specialist vegan and vegetarian menus. However you are free to organise your own caterers. They don't allow every catering company so it's worthwhile asking them to confirm that they'd allow the caterer that you'd prefer.
They allow all traditional ceremonies, allow fireworks in the parking area. As they have a huge parking lot it's possible to create a beautiful arrival for the groom. Guests on the bride's side could stop the groom and ask for money, and a beautiful entry of the bride and groom on the flower-decorated foyer from the mirror door while everyone watches this on the large screen, tickling lights with soft romantic music grabbing everyone's heart.
How much does it cost to hire the Meridian Grand?
They charge a minimum of 4000 pounds for weddings for a dry hire of the venue.  People who have used this venue for their wedding day report that they enjoy their whole day with the completion of their dream and thank the team for their coordination. Most of the reviews show they were more than satisfied..
From the day of the booking, their team is always in contact with the client. To make all the preparation according to their will and throughout the specific day all the staff members. Like parking attendants, security guards, cloakroom attendants, hostesses, waiters, and floor managers coordinated with the guests and hosts.
In short, you have an awesome place for your wedding if you are living in London, Meridian Grand Hall is accessible from all around London.