Glasgow is home to a vibrant and diverse Asian community and there are plenty of amazing Asian wedding venues in Glasgow to choose from. Whether you're looking for a traditional venue or something a little more modern, there's sure to be the perfect place for your big day.
In this blog post, we will explore some of the best Asian wedding halls in Glasgow and We will also provide a few tips on what to look for when choosing a venue for your special day.
Glasgow Marriott Hotel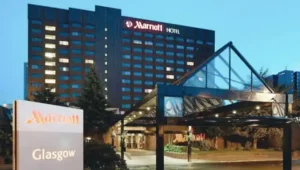 The Glasgow Marriott Hotel is a popular choice for Asian weddings. The hotel offers a range of packages to suit all budgets, and the staff are experienced in dealing with Asian weddings.
Capacity – The Marriott hotel in Glasgow can host weddings up to 550 guests and can also host small weddings in one of its many function rooms. It has an ideal city centre location with on-site parking.
What makes Glasgow Marriott special is its expertise in organising successful Asian Weddings. They've hand-picked local asian caterers and decorators to make your wedding ceremony memorable.
Mar Hall Golf & Spa Resort
A five star hotel, spa and golf course, A 240 acre ancient woodland estate in the Scottish countryside. Mar Hall Resort is the perfect location for a royal and intimate Asian Wedding.
Capacity- The resort can cater from 80 – 300 adults. You can choose the Morton house ballroom for luxury and contemporary feel, for a more outdoor style wedding – Garden pavillion is your best option. It has a number of suites available to suit everyone's taste.
Mar Hall Resort is a perfect location if you've guests coming from different cities. It's just 10 minutes from the Glasgow Airport and has 50+ rooms for overnight accommodation. The golf course and the spa are added benefits to make sure that your guests enjoy your wedding to the fullest.
Glasgow Science Centre

Another unique option for your wedding is Glasgow Science Centre. Its  iconic glass, titanium, and steel buildings are located on the Clyde waterfront, a lively location where modern Glasgow and traditional Glasgow coexist. These buildings provide a beautiful background for your wedding.
This modern venue has a planetarium and IMAX cinema, making it perfect for couples who want an out-of-this-world experience on their big day. Glasgow Science Centre also has several function rooms that can be hired for weddings, so you can find the perfect space to suit your needs.
Capacity – Its Atrium event space can host 500-600 guests while its Planetarium can host up to 120 guests. In-house catering, Audio-visual experts make sure that your wedding is hassle free.
Cost – Hosting a wedding in the Glasgow Science Centre can cost £1600 + VAT (for the Atrium) and £350 + VAT (for the planetarium).
Carlowrie Castle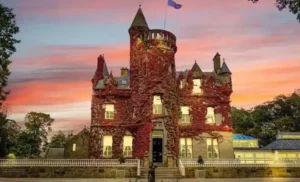 One of Scotland's finest and most opulent wedding location is Carlowrie Castle. It provides all the essentials for a perfect wedding day thanks to its attractive features, which include a gorgeous walled garden and an attractive marquee.
Capacity – Its new Marquee is fully equipped with a fabulous marble-topped bar, boutique restrooms, crystal chandeliers and colour select led lighting. It can host up to 300 guests for dining and 450 guests for an evening reception while Its Orangery hosts up to 110 guests for dining and has direct access onto the lawn and grounds.
This popular venue is the perfect choice for couples who want an intimate and romantic setting for their wedding. Carlowrie has very good chefs and expert wedding planners  that will make your big day truly special.
The Normandy Hotel
Normandy hotel promises to set a perfect stage for your wedding life with superb and imaginative setting, carefully crafted food and a dedicated team of experts to make sure everything goes smooth.
Capacity- This hotel can host weddings from 35-550 guests and its suites can be adapted to match any taste and style. It has an experienced team that takes care of every last detail in decoration and catering. As The Normandy Hotel can cater for as little as 35 wedding guests this makes it an ideal small wedding venue in Glasgow.
Normandy hotel has been organising successful Indian and Pakistani wedding ceremonies for the past 2 decades now and this expertise plays a very important role in helping them to deliver on their promises.
The Lighthouse
If you're looking for something a little different, The Lighthouse is an iconic building in Glasgow that offers stunning views of the city. It also has several event spaces that can be hired for weddings, including a roof terrace with panoramic view.
Capacity – The lighthouse can host up to 150 guests in a seated dining area. Its staff is known to be very helpful and they've helped more than 200 couples to have the wedding of their dreams.
Cost – Hosting a wedding at the Lighthouse can cost £2500 + VAT (approximately)
---
Glasgow is home to a large number of Asians, and as such, there are many Asian wedding venues in the city. So whatever your budget or requirements, there's sure to be an Asian wedding venue in Glasgow that's perfect for You.

Weddings are a big deal in Asian culture. They are often lavish affairs that involve large numbers of guests, extensive decoration, and multi-course meals.
If you are planning an Asian wedding in Glasgow, there are a few things you should know –
Check the Wedding Venue capacity and If it has accommodation facilities nearby or on-site.
Check if the Venue has expertise in Asian catering and If they allow for independent catering.
Check if they've alcohol and entertainment licence.
For complete guide read our post on – How to choose the perfect venue for your Asian Wedding.