A Hindu wedding is a beautiful and colorful event, but it can also be a costly one. If you're thinking about getting married in the UK, you might be wondering about the wedding costs. While there is no set answer, because each wedding is unique, there are some general guidelines you can follow.
In this blog post, we will explore the average cost of a Hindu wedding in the UK, as well as some ways to save money without sacrificing any of the fun or traditions.
How much does a hindu wedding cost in the UK?
The average cost of a Hindu wedding in the UK is £30,000. This includes the cost of the venue, food and drink, catering, decorations, entertainment, and transport. The average cost of a wedding dress is £1,500, with the groom's outfit costing around £800. This is a very typical wedding budget for an Asian wedding in the UK.
When planning a wedding, it's important to factor in the cost of the venue, catering, decorations, and other expenses. The average cost of a Hindu wedding in the UK is £22000 – £35,000. However, this can vary depending on the size and scale of the wedding.
To help you budget for your big day, we've put together a list of some common costs associated with Hindu weddings: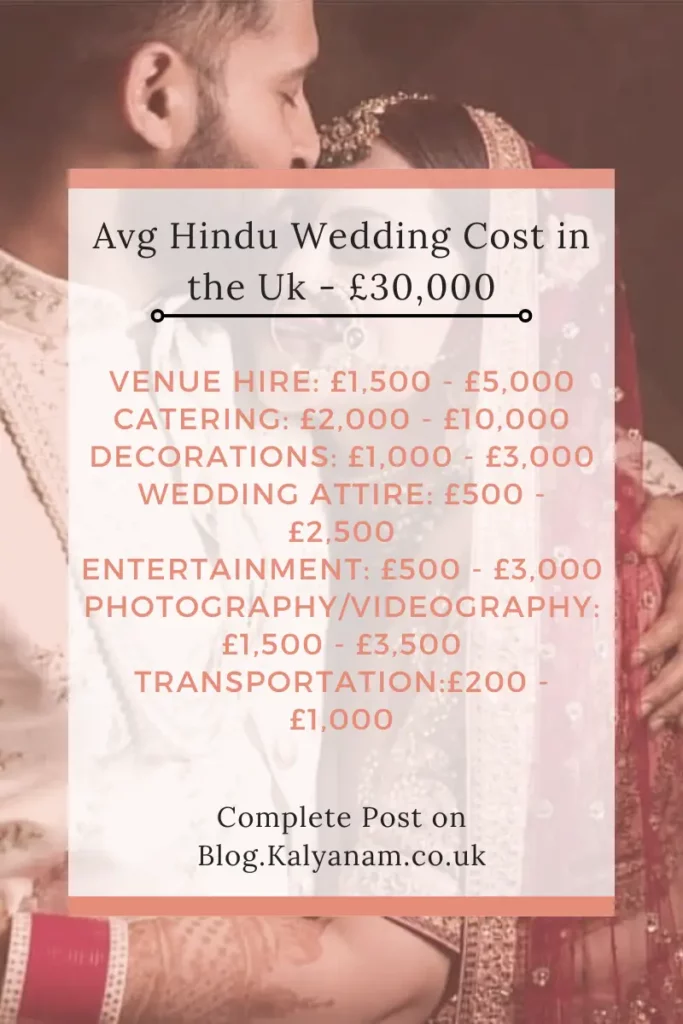 As you can see, there are a lot of factors that affect the cost of a wedding. To get a better idea of how much your wedding will cost, we recommend getting quotes from different vendors and comparing prices.
Hindu wedding budget
When planning your wedding budget, it's important to keep in mind the many different elements that go into making this special day perfect. While you may have a good idea of what you want to spend on each item, it's always helpful to get an estimate from a professional wedding planner.
Here are some of the main items that you'll need to budget for when planning your Hindu wedding –
Venue rental
The cost of renting a venue for your wedding will vary depending on the size and location of the venue. If you choose a city centre location, It'll typically cost more than any other non prominent location.
If you're looking to save money, consider having your ceremony and reception at the same venue. Booking the venue early can also help you in getting good discounts.
Related – Top Asian Wedding Venues in the Uk.
Catering
Food is an important part of any Hindu wedding, so be sure to budget accordingly. The cost of catering will vary depending on the number of guests, the menu choices, and any special requests.
Food is one aspect of a marriage where we don't advise couples to go for cheaper options instead make sure that the caterer you're choosing either on-site or independent has expertise in Asian cuisine.
Photography/videography
Capturing your wedding memories is important, so be sure to budget for a photographer and/or videographer. The cost will vary depending on the number of hours they'll be needed and any add-ons (like photo booths) that you desire.
The number of photo sessions and the number of ceremonies in Asian weddings are usually higher than average European weddings, So don't be surprised when the photographer or Videographer quotes you extra than their normal prices.
Decorations
From flowers to lighting to Mandaps, there are many ways to decorate for a Hindu wedding. The cost will vary depending on the size of the event and your personal taste.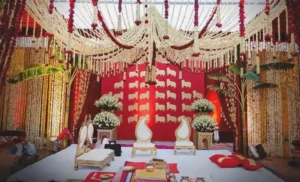 A Mandap is the heart of any Hindu wedding so make sure your wedding venue or your wedding decorators provide Mandap decoration and havan services because renting or contracting someone else for these things will surely affect your budget.
Entertainment
Without some fun and dancing, a Hindu wedding wouldn't be complete! Budget money for them. Typically, the Venues provide access to entertainment options like dance floors, DJs, and live performances. If they don't, ask whether they can arrange them. They'll most likely negotiate a better price for you on such services.
Transportation
Don't ignore transportation expenditures when you have a large number of guests because they can have a large impact on your spending plan. Decide on your wedding site and the number of times the guests will need to be transported, early on.
Your costs will increase significantly if you intend to hold the ceremony and reception at many locations and you have guests who don't have access to their own vehicles. To avoid transportation costs, Hotel weddings are a good option.
Conclusion –
Yes! You can have your dream wedding without breaking your bank. Weddings are once-in-a-lifetime* events, and while you might be tempted to blow all of your cash on them, that's not the best course of action. Planning ahead, sticking to your budget and proper accounting helps ensure that you have the wedding of your dreams without going over budget.