Feeling lost about what to wear for an Asian wedding invitation from your friend? Don't worry, we can help! For those who want to buy an Asian wedding outfit in London; Southall, Wembley, and Green Street are the best places to shop. There are also smaller boutiques in London like Ilford Lane, that offer Indian wedding outfits.
Asian Wedding Online Shops
Prefer online shopping or don't have time to go out? There are great options online! But, be cautious about the store's location, as many are based in India and shipping may take a few weeks. We recommend checking out Mongas, Diyaonline, and Omsara for beautiful outfits that we have personally used and recommend.
What colours do I not wear to an Indian Wedding?
Before we discuss cultural wedding attire, here are a few tips. For colour choices, brighter and warmer colours are appropriate for Asian weddings but avoid wearing red if possible as the bride often wears it. Black and white used to be associated with mourning in some cultures, but this is changing in wedding fashion. Gentlemen have more flexibility in colour choice, as long as it is smart attire.
Gujarati Wedding Guest Outfits
At Gujarati weddings, guests typically wear a variety of outfits, including party sarees like Rajkot patola, Banarasi, Bandhani or Organza sarees, Lehenga cholis, Anarkali or Salwar kameez suits. If you buy a saree, make sure to purchase a petticoat in a matching colour to tuck in the saree pleats! Don't forget to have plenty of pins handy for sarees! For men, attire options include a kurta, dhoti kurta, sherwani, or Western suits.
Bengali Wedding Guest Outfits
Bengali weddings emphasize colour, with the bride and groom often designating specific colours such as gold, red, and pink. To blend in with the crowd, it's best to avoid these colours, but you can still stand out with jewellery and glamorous makeup. Sarees and sequinned anarkalis are popular attire choices for women. Men typically wear a kurta or sherwani, but a Western suit is also acceptable. Some couples even color coordinate to achieve a more cohesive look #couplegoals!
Pakistani Wedding Guest Outfits
Modesty is crucial when attending a Pakistani wedding, so it's important not to show too much skin. Traditional Pakistani attire, such as long lehenga cholis, salwar kameez, shararas, and sarees, are respectful choices. Pakistani outfits are often adorned with intricate embroidery, allowing you to keep your jewellery simple. Avoid wearing something too heavily embellished or colours that closely match the family's chosen colour theme, as you don't want to upstage the bride!
Gents can never go wrong with a three-piece suit, but other options to look dapper include a sherwani or a shirt with a Nehru jacket.
Tamil Wedding Guest Outfits
Tamil weddings value elegance, with women, often wearing traditional sarees made from Kanchipuram, Kanjivaram, Zari, or Banarasi silk. Contrast blouses add a fashionable touch! Younger girls wear half sarees or lehengas. Simple gold jewellery and jhumkkas make great earrings! Fresh flowers are often used for hairstyles like buns and half-up half-down styles. Men typically wear a full suit or a traditional verti with a silk shirt.
Punjabi Wedding Guest Outfits
Sikh weddings call for bright and joyful colours but avoid red as the bride typically wears it. Outfit options for women include lehenga choli, Anarkali, salwar kameez, or saree, while men can choose between a kurta, sherwani, or western suit. For weddings taking place in a Gurdwara, wear comfortable clothes as you will be sitting on the floor, and cover your hair with a chunni or rumaal. Remember to be respectful and not wear inappropriate clothing.
Asian Wedding Shops in London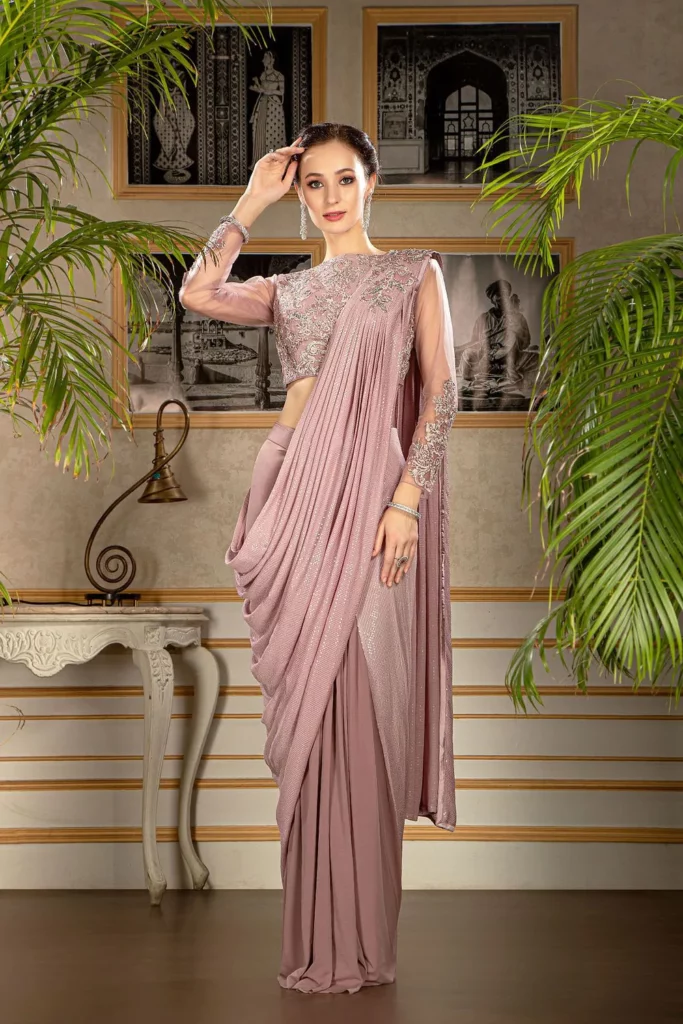 To complete your Asian wedding look, don't forget about your hair, makeup, and jewellery. Find great deals on jewellery in Southall, Wembley, and Green Street in Upton Park. A statement necklace, earrings, bangles, and a tikka are usually enough depending on your outfit. Remember to use a dab of eyelash glue to keep the tikka in place. A bindi is often worn by wedding guests, but not typically in Muslim weddings. If you don't have time to shop in person, check out online shops like Bees, Nim's Boutique, Glimour, Anayah, and Etsy.