If you're planning an Asian wedding in Birmingham, you're in luck! There are a number of beautiful venues in and around the city that can accommodate your needs. From traditional to modern, there's something for everyone.
Birmingham is home to a large number of Asians, making it a popular choice for Asian weddings. There are a number of great Asian wedding venues, each offering something unique.
Read more –  Top tips to choose the perfect asian wedding location in the UK.
In this blog post, we will explore some of the best Asian wedding venues so that you can make your big day perfect.
Hilton Birmingham Metropole

The Hilton Birmingham Metropole is easily one of the top choices for an Asian wedding venue in Birmingham. It is just walking distance from Birmingham International Station linking to Birmingham Airport and has a number of great on-site facilities, including a spa, gym and swimming pool making it the best option if you've guests coming from far away places.
Capacity – The hotel offers a range of different sized function rooms, making it suitable for both small and large weddings. Its monarch suite with a capacity of 1400-2000 guests is perfect for large asian weddings.
It has many other halls available to host different events – the Palace suite (1000-1500 guests) and the Kings suite (500-800 guests), for small weddings there's the Warwick suite that is ideal for upto 150 guests.
Price range – The cost of hosting a wedding at the Hilton Birmingham varies depending upon the suite that you're booking. Its monarch suite can easily end up costing in six figures but with its excellent location near to prominent tourist destinations and stations and Its expertise in Asian cuisine, the price is definitely worth it.
Belfry hotel and Resort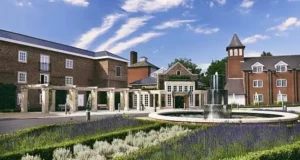 The Belfry Hotel & Resort: A luxurious 4-star hotel set in 500 acres of picturesque countryside, The Belfry Hotel & Resort is a popular choice for weddings of all sizes. With a variety of function rooms to choose from, as well as on-site spa facilities and golf courses, it's the perfect place to relax and celebrate your big day in style.
The Belfry Hotel is one of the most sought out locations for luxury weddings venues in the West Midlands and is one of the standout venues in the UK.
Capacity – Seated Reception capacity is 270 guests and Wedding Ceremony capacity is 400 guests. It offers complimentary suites for Bride & Groom on the wedding night.
Belfry is experienced in asian weddings and has decor suppliers and caterers specialised in asian wedding decorations and cuisine respectively. It can surely make your wedding a memorable one.
Asian Weddings in Birmingham –

If you're planning an Asian wedding in Birmingham, you'll be spoilt for choice when it comes to finding the perfect venue.
There are plenty of stunning venues across the city that are ideal for large-scale weddings, and can accommodate all your guests comfortably. From lavish ballrooms to more intimate spaces, you're sure to find a venue that's perfect for your big day.
Guru Nanak Gurdwara Smethwick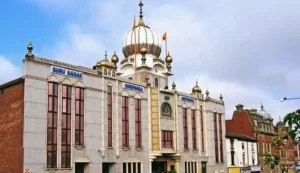 If you're looking for something a little more traditional, the Gurdwara Smethwick near Birmingham can be an excellent choice.
GNG Smethwick offers the perfect blank canvas for a large wedding party offering wedding breakfast facilities, marriage registration services, Bride and Groom suites.
The renovated Darbar Sahib can comfortably accomodate 500+ guests and offers beautiful surroundings for your wedding ceremony and reception. The ambience of the gurdwara is really nice and the gurdwara people are known for their polite behaviour and delicious cuisine.
Soho house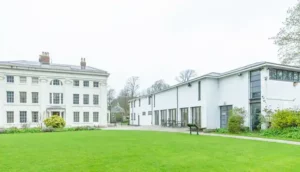 The Soho House is a popular choice for small Asian weddings. It was once the home of eminent industrialist Matthew Boulton and has been beautifully restored to reflect the fashion and taste of the late Georgian period.
Its a perfect location for an intimate and romantic wedding with its elegant gardens and modern event spaces.

Capacity – Two different event areas of the Soho house have the capacity to host 30-50 guests in seated dining or 100-120 guests in a standing buffet.
Price Range – Hosting a wedding in the Soho house can cost from £1500 – £2000 (including VAT). You'll have the freedom to bring your own catering by paying an external catering fee of £100. You can use the house and gardens for photography.
Aston Hall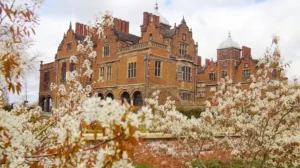 No other venue in Birmingham comes close to the historic Aston hall in terms of picturesque beauty. This 17th century mansion is one of Birmingham's most Iconic buildings.
Like the Soho house, Aston hall too is great for small Asian weddings but it provides significantly more grandeur to the ceremonies.
Capacity – The Aston hall can accommodate 80-120 guests.
Price range – Hosting a wedding here can cost from £1200 – £ 1500. You get access to Birmingham's most preserved historic galleries, Courtyards and Gardens for photography.
---
For outdoor venues, the Botanical Gardens and Oak Mountain State Park are both excellent choices. The Botanical Gardens have a variety of gardens that would be perfect for photos and ceremonies, while Oak Mountain State Park provides plenty of space for larger receptions and banquets.
Birmingham Botanical Gardens
The Botanical Gardens has 3 lavish wedding suites and 15 acres of Greenery with Victorian Glasshouses, Bonsai gardens and Bird collections.
It is a perfect spot for small to medium wedding ceremonies that aim to be in tune with nature.
It has three different suites. The terrace suite can host 150 – 200 guests, the Garden suite can host 350 – 450 guests (It is lit by a grand chandelier and comes with its own private bar lounge. The last suite is the London suite that can host 60 guests in its natural light flushed halls.
No matter what type of venue you're looking for, there are plenty of great Asian wedding venues in Birmingham to choose from. With a little bit of planning, you're sure to find the perfect place to host a memorable wedding.