Asian weddings in Manchester are becoming increasingly popular, and it's easy to see why. Manchester is a beautiful city with a rich history and a diverse population, making it the perfect place to celebrate your heritage and culture.
There are a number of stunning Asian wedding venues in Manchester, from traditional temples to modern hotels. Whether you're looking for an intimate setting for your ceremony or a grand ballroom for your reception, You'll be spoilt for choice when it comes to finding the perfect venue. If you're looking for a wedding hall in Manchester that's specifically purposed for Asian weddings then consider Manzil Banqueting Hall.
Here are just a few of our favourite Asian wedding venues in Manchester:
The Midland Hotel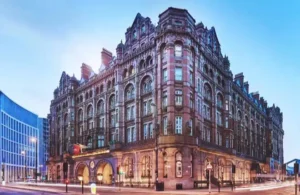 This iconic luxurious hotel is a popular choice for weddings of all cultures. With its grand ballroom and opulent surroundings, it's the perfect place to celebrate your big day in style.
It can accommodate 10-500 guests in 5 distinct suites. With all the amenities it offers on site and the knowledge it has in providing those services, the Midland hotel excels at making weddings hassle-free.
The hotel's located in the heart of Manchester city centre and has big parking spaces nearby.
Midland provides you with –
In-house wedding coordinators
In-house decorators
Bridal changing facilities
Ballrooms
On-site spa.
It also has bar and sound license until 1:00 am and gives you access to sound systems and dance floors.
It can cost £40 – £120 per person to host a wedding in The Midlands Hotel, Manchester. It has In-house catering but also allows external catering services (on your request).
The Kimpton clocktower Hotel
earlier (the palace hotel)
If you're looking for a fairytale setting for your big day, look no further than The Clocktower Hotel. This Grade II listed building boasts beautiful architecture that combines Victorian grandeur with quirky details and modern swagger.
It has an impressive ballroom that can accommodate up to 700 guests and is the largest ballroom in the north west of England. It has many other suites too that can host 15-600 guests.
The clocktower hotel provides you with a dedicated In-house wedding planner and a dedicated wedding planning room that you can access at any time. It also gives discounts on rooms that you'd book for your guests.
High ceilings, dramatic chandeliers, and oak panelling create an outstanding wedding atmosphere. You'll have access to a variety of distinctive backdrops for your wedding pictures, like the marble stairway in the Director suite and the bright Winter Garden.
Cost – Hosting a wedding at the Kimpton clocktower Hotel can cost from £100 – £150 per person.
Read also – Things to consider before choosing an asian wedding venue in the UK.
Hilton Manchester Deansgate
Another top choice for lavish Asian weddings, Hilton Manchester Deansgate offers a range of elegant function rooms and suites to choose from.
No matter how grand or simple your wedding plans are, Hilton Manchester has suites for everyone. Intimate function rooms for 20 guests, the majestic Deansgate Suite for up to 500 guests, or the breathtaking views from the cloud 23 suite.
The building complex is the tallest skyscraper in the UK outside of London and has pools, spas, restaurants and bars. Organising a wedding here is going to be fun for both you and your guests.
Asian Weddings in Manchester –

Manchester is a city with a rich cultural heritage, and this is reflected in its diverse range of wedding venues. There are plenty of options to suit every taste and budget.
The Lowry Hotel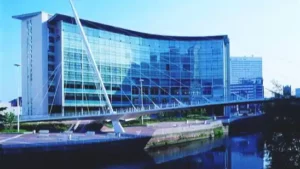 If you're looking for something a little different, The Lowry Hotel is a great option. With its unique design and stunning views over the city, it's sure to make your wedding day extra special.
Set in the heart of Salford Quays, The Lowry Hotel is a stylish and contemporary venue with a range of function rooms to choose from. The stunning Waterfront Suite offers panoramic views of the Manchester Ship Canal and is perfect for large weddings.
This hotel can host intimate functions of 20 guests to large wedding ceremonies with up to 280 guests in one of its many function spacman
Dj's, live entertainment, performers, color schemes and specialized wedding planners make the Lowry hotel, one of the best choices for a colorful and vibrant asian wedding in Manchester.
Gita bhavan Hindu Temple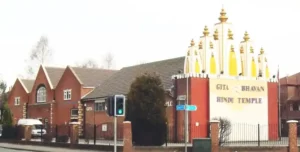 It is one of the most popular venues for Hindu and Tamil weddings. Marriage is considered a sacred event in Hinduism and the temple authority makes sure that the wedding ceremony takes place in a traditional manner by properly following all the important rituals.

The main advantage of organising a wedding ceremony here is you're closer to your culture (If you're a hindu) but the temple doesn't provide accommodation, so make sure that you've booked hotels if you've guests coming from out of station.
Town Hall, Manchester
If you're looking for a truly unique setting for your wedding, look no further than Manchester Town Hall. This historic building offers a variety of event spaces, including the spectacular Great Hall which is perfect for an Asian wedding reception.
The Town hall can host large wedding ceremonies and is located at a prime location that has a lot of hotels and parking spaces nearby making it a good option if you've guests coming from different places.
It also provides you with specialized Wedding and decoration planners to help you plan the wedding ceremony of your dreams.
When it comes to finding the perfect wedding hall, Manchester won't disappoint you. There are a number of good venues with expertise and resources to host a memorable wedding ceremony.