Asian weddings are known for their grandeur and opulence, and the venue is one of the most important aspects of planning such an event.
There are a few things to keep in mind when narrowing down your search for the perfect Asian wedding venue location. First, think about the size of your wedding. If you're planning a large affair, you'll need a venue that can accommodate a good amount of guests. Second, consider whether the venue's caterer has experience with Asian cuisine and whether they permit outside catering. Third, consider your budget. Venues can vary greatly in price, so it's important to find one that fits within your means.
Once you've considered all of these factors, you should have no trouble finding the perfect Asian wedding venue for your big day!
Budget
Budget is frequently one of the first factors couples take into consideration when choosing wedding Venues. And rightfully so! Venue can easily become one of the most expensive aspects of your wedding. But don't let that deter you from having the wedding of your dreams.
There are plenty of ways to save on your venue without sacrificing style or quality. 1. Do your research
Before you start touring venues, it's important to have a good idea of what you want and what you can afford. Use sites like WeddingWire to browse different types of venues in your area and also ask people who have organised weddings recently to get an idea of average pricing. This will help you narrow down your search and avoid any sticker shock when it comes time to book.
2. Consider an off-peak date
If you're flexible with your wedding date, consider booking for an off-peak time like winter or early spring. Venues typically charge less during these times, so you could save big by simply selecting a different date. Plus, who doesn't love a winter wonderland or springtime soirée?
3. Think outside the ballroom
Ballrooms are classic, but they can also be quite pricey. If you're looking to cut costs, consider unique spaces like art galleries, museums, lofts, or even outdoor locations like parks or gardens.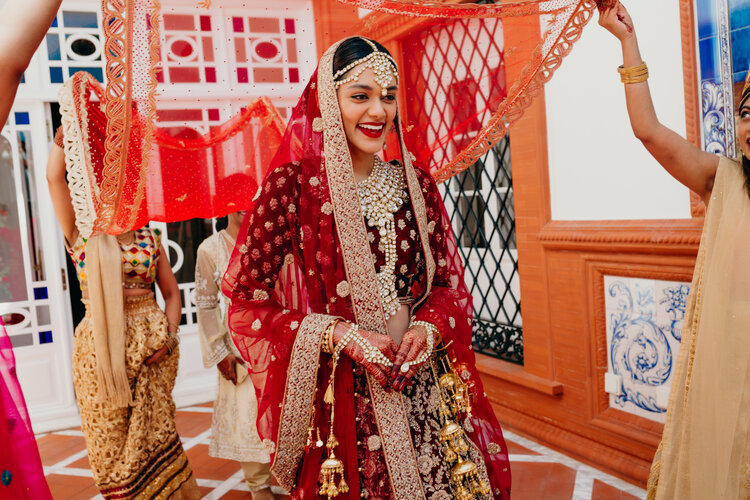 Size of the venue
When it comes to choosing a venue for your Asian wedding, size definitely matters. You want to make sure the venue is large enough to accommodate all of your guests comfortably. But you also don't want it to be so large that it feels empty or impersonal.
Consider the number of guests you plan to invite to your wedding before selecting a few venues that can comfortably hold everyone in addition to any extras like a band or dance. Once you've narrowed down your options, visit each location to see which one feels most ideal for your wedding.
Keep in mind that the size of the venue will also affect other aspects of your wedding, like the budget and the logistics. But if you find the perfect balance between size and everything else, you'll be sure to have an amazing Asian wedding that everyone will remember forever!
Type of venue
There are a few things to take into account when selecting a wedding venue. To start with, you'll need to decide what type of venue you're looking for. Are you looking for a traditional banquet hall? A more modern hotel ballroom? Or something else entirely?
Once you've decided on the general type of venue you're interested in, it's time to start narrowing down your choices.
Decor
Asian weddings can have a wide range of themes depending on the culture, so it's important to check the venue's decor options and ask if they have wedding planners who can tailor it to match your own wedding theme. You should also ask the venue if they provide photographers, priests, and other wedding-related services.
Overall look and feel
Decide what kind of atmosphere you're looking for. Do you want something traditional that feels and connects with your regional or religious customs? or something more modern? Or anything unique that you've already planned and your wedding venue is capable of creating that ambience.
Once you've decided on the overall mood of the venue, you'll need to zero in on a location.
Location
Choose a well known location or If you've some specific location in your mind then make sure that the location can be found easily through Google maps. If you've guests coming from far away places then choose locations that are closer to their accommodations.
Catering Options
If You don't want people to remember your wedding for how terrible the food was, make sure to check the catering capabilities of your wedding venue and if they've expertise in preparing authentic Asian cuisine. Get real world reviews about them or taste test them yourself.
When considering different venues, also ask about their policies regarding food and drink. Many Asian weddings involve elaborate feasts, so it's important to make sure your chosen venue can accommodate your event.
Conclusion
If you're wondering how to choose an Asian wedding venue, here are a few things to keep in mind. First and foremost, you'll want to consider the size of your guest list. The venue should be able to accommodate all of your guests comfortably. You'll also want to think about the logistics of the venue, such as its location and accessibility. Ideally, it should be centrally located and easy to get to for all of your guests. Another important factor to consider is the overall look and feel of the venue. It should be able to reflect the style and theme of your wedding.
Finally, don't forget to factor in your budget when choosing a venue. While you may be tempted to go for the most expensive option, remember that this is just one part of your overall wedding budget. Choose a venue that fits both your needs and your budget, and you'll be sure to have a successful Asian wedding.